Southwest HVAC News
New Features Make Goodman's New Modulating Gas Furnace Even Easier To Sell and Install.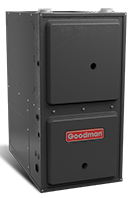 Goodman kicked off the fall heating season by introducing the new G_VM97 modulating gas furnace featuring improvements such as a newly designed tubular heat exchanger, reduced cabinet height, and a higher AFUE efficiency rating of up to 97%.

Goodman continues to use wrinkle bend technology in the unique design of its new heat exchanger, as well as heavy-duty aluminized steel for the tubular heat exchanger and stainless steel for the secondary heat exchanger. The new furnace also features a fully insulated cabinet and blower section for better noise attenuation. Goodman also reduced the cabinet height to 34.5 inches (versus 40 inches) and, in select models, also reduced cabinet widths to make installation even easier. The cabinet features tool-less thumb screw service access panels and has been strengthened with an embossed single-piece wrapper design for less than 2% cabinet leakage.
Story continues below ↓
---
advertisement | your ad here
---
The new and higher AFUE rating further reduces the amount of wasted energy, with 97 cents out of every energy dollar going into heating the home. Other features of note include vertical gas valves for easy field connection to either side; additional inlet air options available on top or either side; a factory-installed internal trap for vertical applications; and 20,000 BTU firing rate per burner with capacities from 40,000-120,000 BTU. The G_VM97 also features durable silicon nitride igniters, a self-diagnostic control board with constant memory fault code history, and self-calibrating modulating gas valves that auto-configure for each installation.

This furnace is covered by one of the best limited warranties Goodman offers: a 10-year parts limited warranty*, a lifetime heat exchanger limited warranty* and a 10-year unit replacement limited warranty*.

* Complete warranty details available from your local dealer or at www.goodmanmfg.com. To receive the 10-year Unit Replacement Limited Warranty, Lifetime Heat Exchanger Limited Warranty (good for as long as you own your home) and 10-Year Parts Limited Warranty, online registration must be completed within 60 days of installation. Online registration is not required in California or Quebec.

About Goodman - A member of the Daikin group:
Goodman designs, manufactures, markets and distributes a complete line of residential heating and cooling systems. The products are manufactured in facilities located in Houston, TX, Fayetteville, TN and Dayton, TN. For additional information, visit www.goodmanmfg.com.

Daikin Industries, Ltd. (DIL) is a Fortune 1000 company with more than 50,000 employees worldwide, and is recognized as the largest HVAC manufacturer in the world. Daikin North America LLC (DNA) is a subsidiary of DIL. DNA and its affiliates manufacture heating and cooling systems for residential, commercial and industrial use and are sold via a select group of independent HVAC contractors. DIL manufacturing operations include facilities at Houston, TX, Fayetteville, TN, and Dayton, TN. For additional information, visit www.daikincomfort.com.

Additional Information:
Before purchasing this appliance, read important information about its estimated annual energy consumption, yearly operating cost, or efficiency rating that is available from your retailer.