HVAC Product Preview
Armstrong Launches Medium Range Line of Permanent Magnet Pumps.
Designed to Deliver 20% Lower Operating Costs.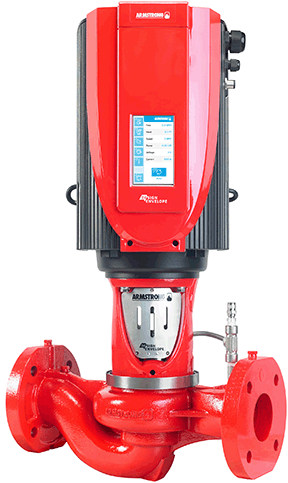 The new pumps are available with motors ranging from15 hp to 50 hp, and operate at NEMA Ultra-Premium Efficiency levels that exceed the efficiency targets of both the US Department of Energy and the European Union.
Beyond the motor efficiency, a number of additional design innovations make the new Design Envelope pumps more energy-efficient and cost-effective:
• Armstrong's patented Parallel Sensorless Control stages multiple pumps and regulates output for best efficiency across the entire pump array, saving 10-30% in operating costs
• Adjustable design points and setpoint based on the actual on-site conditions
• A quadratic pressure control curve that provides more efficiency than a linear pressure control curve
• A constant-flow function for maintaining a desired flow rate in recirculation applications
• Advanced connectivity via Armstrong's Pump Manager, a cloud-based performance tracking service, provides industry-leading analytics and insights along with alerts, alarms and data storage
For additional information visit www.armstrongfluidtechnology.com
---
DUCKT-STRIP® The only mini-split cable with patented Rip-N-StripTM technology.
Duckt-Strip® with Rip-n-Strip™ technology is

a new kind of mini-split cable that provides the installer with everything they need in one cable. Meeting all of the approvals & qualifications for a mini-split cable, The Duckt-Strip® cable is preferred by Electrical Inspectors. The Rip-N-Strip™ technology gives the installer the ability to quickly strip the wire without using strippers, knives, or cutters. This makes the process faster, safer, and more cost-effective in the long run.
Contractors will enjoy knowing that their mini-split installation already meets code with the all-in-one Duckt-Strip® cable. They'll enjoy saving money on the less time it takes to run Duckt-Strip® versus traditional wiring. And they'll be glad they're not paying medical expenses for cuts and gouges that occur when stripping traditional wire.
Download the Duckt-Strip® with Rip-n-Strip™ Technology flyer.
---
Allied Air Enterprises Keeps Independent Distribution Ahead of the Curve with Early Introduction of 17 SEER Air Conditioner Under Concord®, Ducane™ and Allied™ Brands.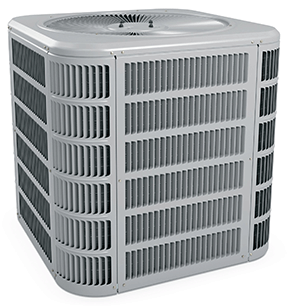 Particularly Relevant to 2023 Southeast and Southwest Regions.
Allied Air Enterprises announces the new 4AC17 single stage air conditioner under the Concord®, Ducane™ and Allied™ brands, providing an efficiency range of 15 to 17 SEER. Allied Air will start production in July 2022, proactively anticipating 2023 regional efficiency requirements in the Southeast and Southwest United States, where new minimum efficiency requirements are moving from 14 to 15 SEER or 14.3 SEER2 under the new testing standards.
According to the 2023 requirements, there is no sell-through period for non-compliant air conditioning units in these regions. This means distributors must have compliant products in stock well before January 1, 2023.
Visit www.alliedair.com to learn more
---
New Inaba Denko Slimduct Black Lineset Cover.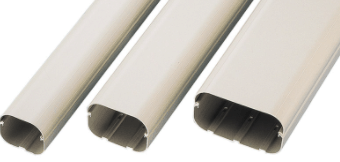 The Slimduct Lineset Cover, manufactured and backed by Inaba Denko premium quality standards, is a simple, lightweight, and inexpensive solution to cover mini split HVAC linesets. This cover will protect both the lineset and HVAC system from extreme weather conditions during the winter, spring, and fall, including leakage.
High-Grade PVC Lineset Hide
The Slimduct SD Black lineset cover is water-resistant/weatherproof PVC that will protect your linsets from rain, sleet, snow, etc. The high-quality PVC line set hide provides you with an economical solution that's not only lightweight but strong!
Variable Lineset Cover Dimensions
It will be perfect for small installations on any home! It can be easily cut and,is available in multiple widths and lengths.

Customized Lineset Cover Colors
This linecover hide features many different ells and inlets to fit any project. Inaba Denko lineset covers are available in multiple colors, black, ivory, or brown.
Click here for more information.
---
New Chillgard VRF Refrigerant Leak Detectors Safeguard Climate Control Systems in Commercial Buildings and Other Facilities.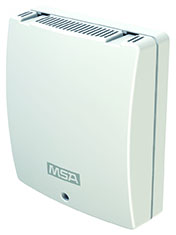 Building engineers and contractors who are installing or maintaining energy-saving Variable Refrigerant Flow (VRF) systems will find the highly reliable Chillgard® VRF Refrigerant Leak Detector with integrated BACNet capability from MSA provides advanced leak detection technology to protect the respiratory safety of building and facility occupants. Designed with MSA's advanced photoacoustic infrared (PAIR) sensing technology, Chillgard VRF Refrigerant Detectors operate with a stable zero baseline. PAIR technology eliminates sensor drift and allows operation for lengthy periods over temperatures ranging from 32-140°F, 0-60°C, and 0-95% relative humidity levels without adjustment or maintenance.
Chillgard VRF Detectors are discretely placed nearby in building rooms and hallways. They are ideal for universities, banks, offices, hotels, restaurants, strip malls, hospitals, nursing homes and places of worship. The automation friendly Chillgard VRF Detector operates independently or is compatible with multiple building management systems (BMS).

Installation is simple requiring 24 Vdc/Vac power. There are no moving parts for low maintenance and only an annual calibration check is recommended.
Click for more information
---
BELIMO SELECTPRO™ NOW OFFERS A SENSOR MODULE.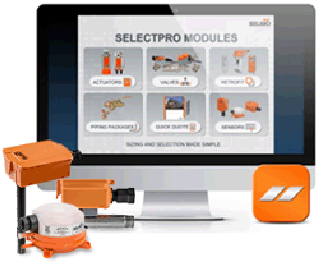 Belimo Americas announces the release of SelectPro version 3.5 which now includes a sensors module offering a complete range for measuring temperature, humidity, pressure, CO2, and Volatile Organic Compounds (VOC) in pipe, duct, and outdoor applications.
SelectPro is a quick tool for accurately sizing and selecting valves, actuators, sensors and replacement solutions. SelectPro's features include; export builder, reference documents, contact profiles, quote generator, and media download capability. SelectPro version 3.5 includes not only the new sensor module but also the new technologically advanced butterfly assemblies.
"SelectPro provides contractors and engineers an extremely useful tool," states Danielle Breece, Sales Tool Specialist for Belimo. "They like the speed and ease-of-use, and now with the additional sensor module, SelectPro can serve as a single source for sizing and selection field-level devices for any building project."
Download SelectPro. Use SelectPro online.
---
Marketair Wins Gold and Bronze HVAC/R Product Design Awards for LinePort and SnapFix.
Marketair's LinePort, plastic hooded pipe inlet ports for weatherproof rooftop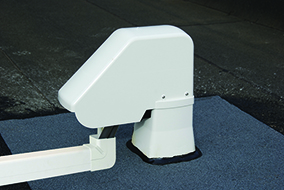 penetrations and the SnapFix mini-split condenser mounting bracket fastener competed against 79 product design entries that were judged by an independent panel of contractors and won Gold and Bronze awards, respectively, in the "Components & Accessories" category.

The two-piece LinePort is easily installed in less than 30 minutes and it weatherproofs roof penetrations for HVAC/R linesets, condensate, plumbing and electrical piping installations on commercial and residential buildings.
Two sizes fit up to six linesets, depending on pipe diameters. The precision-molded, UV-resistant, durable white ASA-plastic gooseneck designs are an aesthetic, labor-saving and less costly alternative to fabricated galvanized metal piping ports on flat or pitched roofs. For more information visit https://www.marketair.com/
---
NORTEK GLOBAL HVAC LAUNCHES NEW 96% EFFICIENT FURNACE
Model FG7TE/FG7TN features 16-speed ECM blower motor.
Nortek Global HVAC, a leading manufacturer of energy-efficient, HVAC systems, is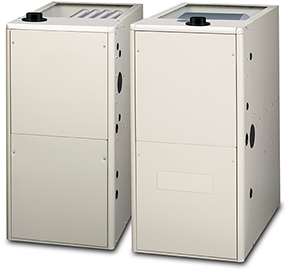 adding a new 96% AFUE gas furnace to its lineup. Model FG7TE/FG7TN comes with a factory-installed ECM motor and programmable control board. The new furnace meets ENERGY STAR requirements and qualifies for local utility rebates and the U.S. federal tax credit.

The Nortek Global HVAC fixed-torque ECM blower motor is programmable to 16 different speeds for both heating and cooling operation modes, making it extremely adaptable to challenging high-static applications as well a greater range of heating and cooling capacities. Nearly 100% of the fuel used to power the unit is converted into useful heating power.
The new furnace also features:
• SmartLite® hot surface igniter made of silicon nitride for long igniter life
• On board jumper shunt for two-stage operation from a single-stage thermostat
• Dehumidification terminal to reduce initial airflow for maximum humidity removal
• Three LED status lights to simplify troubleshooting

Model FG7TE/FG7TN joins the company's 95% AFUE furnaces, including another model with an ECM motor, a single-stage model with multi-speed non-ECM blower motor and two multi-stage models.

Model FG7TE/FG7TN is available in the Broan®, Frigidaire®, NuTone®, and Westinghouse® brands of HVAC equipment. Similar model MGC2TE/MGC2TN is available in the Maytag® brand.

For more information about innovative Nortek Global HVAC products, contractors and distributors should visit nortekhvac.com.
---
RectorSeal® Introduces the Slimduct® Lineset Protection Cover Kit for Split-System and Minisplit A/C Installations

.
Premium-grade kit offers complete, compact packaging of duct and fittings for protecting and concealing linesets on 85-percent of commercial and luxury home installations.

RectorSeal® Corp., Houston, a leading manufacturer of HVAC products and accessories, introduces the Slimduct® Lineset Protection Cover Kit by Inabo Denko, the original premium lineset cover manufacturer. RectorSeal's compactly boxed kit provides all the duct and fittings necessary for protecting and aesthetically concealing linesets in a routine central split-system or minisplit air conditioning installation.
Other Slimduct Lineset Protection Cover Kit features are:
• two-color red/black box's exterior depicts descriptive illustrations of duct and fittings content;
• requires no additional brackets, fasteners or hardware for installation;
• applicable to indoor as well as outdoor lineset concealment and protection;
• easy precursor for wholesalers to eventually stock and display Slimduct's full line of lineset protection;
• both sizes easily conceal condensate hose, thermostat wire, and power wiring in addition to linesets;
• suitable for temperatures -80° to 140°F;
• easily stacked on service trucks as well as distributor shelves;
• and available from most HVAC wholesale distributors.

For additional information, visit www.rectorseal.com email: marketing@rectorseal.com; or call 800-231-3345.
---