Southwest HVAC News
Goodman Establishes New Base in U.S. State of Texas.
Consolidates 4 U.S. factories, logistics, and marketing function.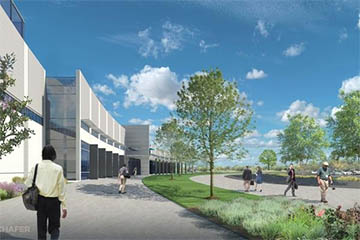 Aiming for medium- to long-term business expansion in the HVAC market of North America, Daikin Industries, Ltd. is establishing a new base in the suburbs of Houston through its subsidiary Goodman (Goodman Global Group, Inc., Headquarters: Houston, Texas, United States).

The new base is being established to integrate the four factories that Goodman currently operates in the United States and the logistics base. Moreover, the new base will consolidate marketing and customer support activities to provide even greater operational efficiencies within the company. Construction of the new base will begin soon with base operations scheduled to start in the middle of 2016.

Story continues below ↓
---
advertisement | your ad here
---
Since the Goodman acquisition in 2012, Daikin has increased business in the North America region by utilizing the strengths of both companies. However, greater production capacity has become essential for achieving further growth. Together with enhancing Goodman production facilities, the new base will showcase Daikin's state-of-the-art production technology that is expanding to every region of the world and aim for significant gains in productivity to achieve nonstop creation of cost competitive products.
Other expected benefits include optimal logistics efficiency through the melding of production and logistics in the integration of the logistics base with the four factories dispersed within the United States; inventory reduction through the sharing of components; and significant shortening of lead-time through improved efficiency in the delivery of finished products.

In response to the tightening of energy regulations in the North American HVAC market, demand is rising for high efficiency in residential-use unitary air conditioning equipment, and greater sales of premium zone products are expected. Although sales first began at Goodman last year for residential-use products incorporating high-efficiency inverter technology, Goodman plans to also aggressively launch similar products for this fiscal year.
Even in North America where conventional ducted products have remained mainstream, the ductless market is rapidly growing at an annual pace of more than 20%, and ductless products, such as the VRV air conditioning systems in which Daikin excels and residential-use split type air conditioners, are beginning to receive high acclaim for their overwhelming energy efficiency and comfort. Market recognition of VRV air conditioning systems is increasing with substantial growth seen in their adoption in HVAC designs and installations for the light commercial market that includes air conditioners for small offices and shops.

Together with rapidly developing its business to ever-changing customer needs and new trends in the North American market, Goodman is striving to create innovation at the first production facility in the world to manufacture both ducted and ductless products as it leads the market as an HVAC manufacturer offering a full lineup ranging from residential-use to commercial-use products.

###