Southwest HVAC News
White-Rodgers Introduces New Direct Replacement Options.
Integrated Furnace Control Modules Available for Fall Service Calls.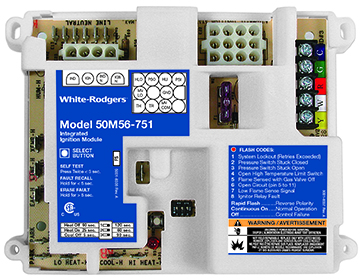 White-Rodgers, a business unit of Emerson (NYSE: EMR) and part of the Emerson Climate Technologies business segment, today introduced four new direct replacement controls for Carrier, Trane and York single-stage furnaces. The controls are part of a growing line of direct replacement options to complement an extensive offering of universal replacement products that White-Rodgers offers contractors.

"Our goal is to make it easy for contractors to serve their customers," noted Geoff Godwin, vice president of marketing, White-Rodgers. "Direct replacement options are quick and cost-effective, while universal products allow contractors to service a wide variety of furnaces and often get customers' furnaces repaired without carrying a lot of inventory on their trucks."

Story continues below ↓
---
advertisement | your ad here
---
To help contractors navigate White-Rodgers' replacement heating controls, valves and ignitors, the company has added an OEM Model Search to the WRMobile App. Contractors simply enter the OEM furnace control model number, and the app gives suggested direct replacement models as well as any universal options available. WRMobile can be downloaded for free from EmersonClimate.com/mobileapps.

White-Rogers also offers a newly updated Visor Card (form WR-0889-14) quick-reference guide providing a complete list of White-Rodgers products and specifications as well as a cross-reference selection guide. The Visor Card, which can be stored in a toolbox or under a vehicle's sun visor, is available through White-Rodgers sales or customer service representatives.
For more information visit EmersonClimate.com.
About Emerson
Emerson (NYSE: EMR), based in St. Louis, Missouri (USA), is a global leader in bringing technology and engineering together to provide innovative solutions for customers in industrial, commercial, and consumer markets around the world. The company is comprised of five business segments: Process Management, Industrial Automation, Network Power, Climate Technologies, and Commercial & Residential Solutions. Sales in fiscal 2013 were $24.7 billion. For more information, visit www.Emerson.com.

###