Southwest HVAC News
Seresco Introduces Split-System DOAS Dehumidifier with the Smallest Refrigerant Charge in HVAC Industry.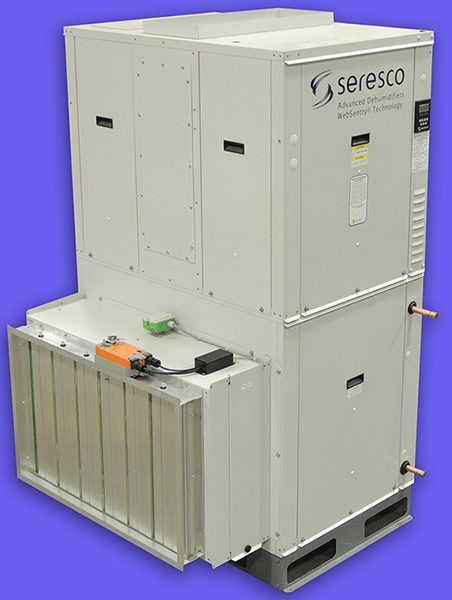 Seresco USA Inc., Decatur, Ga., a leading indoor air quality and dehumidification equipment manufacturer, introduces the Outdoor Air (OA) Series, the indoor split dedicated outdoor air system (DOAS) dehumidifiers featuring the smallest refrigerant charge and easiest installation in the HVAC industry.
The OA Series uses Seresco's revolutionary Protocol Technology, which substitutes HFC refrigerant with less expensive and environmentally-friendly glycol for heat rejection to an outdoor dry cooler in all commercial applications. Substituting refrigerant and its costly copper line sets with inexpensive glycol and PVC piping dramatically simplifies installation and reduces onsite labor/material costs by 60 to 75-percent. This glycol outdoor heat rejection approach eliminates the installation challenges and limitations associated with systems using condensing units with complicated refrigerant piping to indoor air handlers.

Story continues below ↓
---
advertisement | your ad here
---
The OA Series ranges from six to 30-tons and 1,000 to 6,000-cfm (dependent upon geographical humidity conditions). Seresco's OA concept is a perfect complement to applications such as variable refrigerant flow (VRF) and active chilled beam designs looking for indoor split systems for treating outdoor air.
Besides Protocol Technology, every OA Series unit's standard features include other innovations from Seresco's renowned indoor pool mechanical dehumidifier product lines, such as fully-dipped corrosion-resistant coils, high efficiency electronically-commutated (EC) motor/fans, and unit configurations that separate critical components/controls from the supply air stream. Another standard feature is Seresco's WebSentry®, a web browser-based software/hardware application that monitors and transmits 100+ operating parameters, including compressor pressures, from the onboard CommandCenter™ microprocessor controller to authorized smart phones or email. WebSentry's 24/7 monitoring assures optimum energy efficiency and reliability throughout the unit's lifecycle.
Other benefits of the OA Series are:
• factory-charged and sealed refrigeration circuit requiring no on-site refrigerant labor;
• dual compressor and interlaced evaporator coil design provides exceptional peak and off-peak latent removal performance.
• eliminates large ductwork chases in building retrofits with limited space;
• precise modulating reheat from compressor waste heat in the glycol heat rejection loop;
• WebSentry provides realtime monitoring capabilities of all critical system aspects;
• two-year warrant covers all parts.
For more information on Seresco USA Inc., and its IAQ equipment, please visit www.serescodehumidifiers.com; email sales@serescodehumidifiers.com or call (770) 457-3392.

About Seresco:
Seresco USA Inc., Decatur, Ga., is the U.S. subsidiary of privately-owned Seresco Technologies Inc., which is headquartered in Ottawa, Ontario. Seresco specializes in commercial and residential indoor swimming pool dehumidifiers and other indoor air quality HVAC equipment that's sold through a manufacturer's representative network, and serviced and supported by factory-trained service technicians. For more information, please visit www.serescodehumidifiers.com, email sales@serescodehumidifiers.com or call (770) 457-3392.