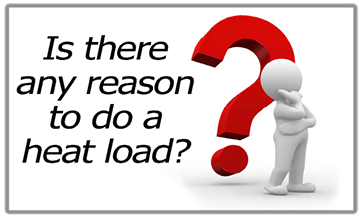 Around 40 states have adopted the International Energy Conservation Code (IECC) requiring a Manual J heat load calculation. If you work in one of those states, that would be a good reason to do a heat load. But, to be frank, not all these states or counties within these states enforce the code. So, if it isn't enforced, why take the time to do a heat load?

To get a competitive advantage over the competition!

The common complaint among contractors—How do you compete with the guy coming in with ridiculously low pricing? By being the contractor they can trust. Show the prospect how the system should be designed to make them comfortable. And the first step in doing that is a heat load. And if they still go with the lower bid, you will probably be who they call in to fix it when they aren't comfortable.

Story continues below ↓
---
advertisement | your ad here
---
To protect yourself!
We hear the horror stories every day—a contractor didn't do a heat load but used the theory, "I've been installing systems for years and never had a problem." Then they install a system in a tight house and have mold growing on every surface.

There's a lawsuit waiting to happen.

With a heat load in hand, you can prove you designed the system correctly.

To be able to offer rebates and other incentives
Many utilities and organizations offer incentives and rebates for properly designed and installed systems. They require the Manual J heat load to be submitted to qualify for the rebate. When you are able to offer the customer the rebate, your price goes down. You may be closer to your competitions price but with a much higher quality job.
Plus…
Just because your area isn't enforcing the code now doesn't mean that they won't start enforcing it next month. We've been offering training to contractors around the country who are all of a sudden faced with learning how to do a heat load… and they need to have one to submit the next day. Many a long night and lots of frustration goes into those loads.
Learn how to do a heat load now and be prepared.

About Training for the Trade
We train contractors to use Elite Software's RHVAC program—on-site and online.
Or we can do the load for you. Contact us: tftt@tftt.org



Authorized trainers and resellers for Elite Software's residential HVAC software.
1725 Ridgewood Dr. • Ft. Wright, KY 41011 • 859-468-6000 • tftt@tftt.org

###