Southwest HVAC News
Armstrong Announces Winners of Its Harley Davidson Motorcycle Promotion.
Texas Contractor & Counter Person Are the Two Big Winners.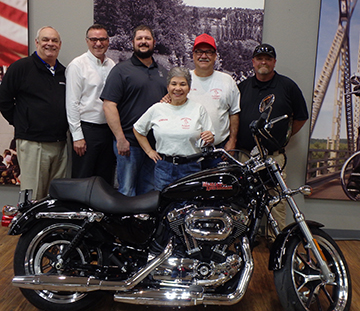 Armstrong Fluid Technology announced that the winners of brand new Harley Davidson Sportster motorcycles in its Cruisin' with Armstrong promotion were a plumbing contractor and a counter sales person from Texas.
Manuel Lopez, owner of Conquistador Plumbing in Lubbock, Texas, was the winner of the first Harley of a random draw in the Cruisin' with Armstrong promotion that provided US contractors with a $5 Visa Gift Card and one entry into a draw for the motorcycle every time they purchased an ASTRO or COMPASS circulator.
Photo Caption:
Proudly displaying one of the two Harley Davidson Sportser motorcycles are winners Keith Craddick (3rd from left) and Manuel Lopez (4th from left) with his wife Lupe (front). Presenting the motorcycles were Ted Parker (L) and Allen Ruddick (R), with Hugh M Cunningham representative organization; and Michael McCarthy (2nd from left), Armstrong Fluid Technology Central Region Sales Manager – U.S.
Story continues below ↓
---
advertisement | your ad here
---
As the counter sales person who sold Lopez the Armstrong circulator at Morrison Supply Company in Lubbock, Texas, Keith Craddick also won a new Harley Davidson Sportster.
Commenting on the prize, Manuel Lopez stated, "we are overwhelmed. We feel so blessed. Thank you so much Armstrong. It's a gorgeous bike."
For his part, Keith Craddick was equally pleased, stating, "I'm really going to enjoy this bike. I really appreciate it and thank Armstrong so much."
"The Cruisin' with Armstrong promotion was very popular with contractors and wholesalers nationwide," said Rich Halvorsen, Armstrong's National Sales Manager. "Hundreds of contractors received $5 Visa Gift Cards and they all provided their customers with innovative, energy-saving circulators."
The promotion took place in 2016 and no purchase was necessary to enter the drawing for the motorcycle.


About Armstrong Fluid Technology
With more than 1000 employees worldwide, operating seven manufacturing facilities on three continents, Armstrong Fluid Technology is known around the world as a leader and innovator in design, engineering and manufacturing of integrated solutions within the building oriented fluid-flow equipment industry. Armstrong products are internationally recognized for design innovation, quality, long service life, and superior operating economy. For more information about Armstrong Fluid Technology visit www.armstrongfluidtechnology.com.