Southwest HVAC News
Lennox® Commercial Innovation Truck.
Innovation Never Felt So Good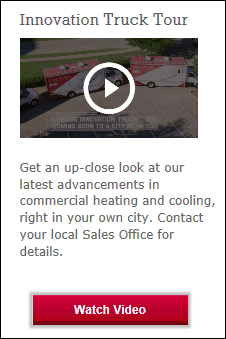 Outfitted with the latest products, the Lennox Innovation Truck features true-to-size displays of Lennox' most popular and technologically advanced HVAC systems.

Lennox Innovation Trucks will be rolling through the United States and Canada, and are available to visit your business. The truck provides customers the opportunity to view and interact with latest in innovative technology.

Please contact your local Lennox Commercial Sales office to learn when a truck will be visiting your area, and be sure to visit lennoxcommercial.com to learn more.
Select Featured Products

Lennox VRF
The latest in flexible and efficient HVAC technology, Lennox' VRF system is an intuitive HVAC system that provides unrivaled customizable comfort. Multiple configurations of the system's indoor units are available, making Lennox VRF flexible not only in operation but in installation, as well.
Story continues below ↓
---
advertisement | your ad here
---

• Utilizes only inverter-driven compressors to maximize efficiency and longevity.

• Highly-efficient DC fan motors power condensing unit fans, with 18 different speeds for precise airflow control.

• Specially engineered fan blade design optimizes airflow while reducing noise. Lennox VRF also utilizes dissimilar fan blades to eliminate in-phase pulsing.

• With multiple control options and accessories available, it can be customized to create an ideal environment in any room, during any season.

Accessories include, but are not limited to:
• LVM Centralized Controller – a single touchscreen control to monitor and adjust every unit within a Lennox VRF system. Access through mobile and desktop devices put total system control at your fingertips.

• BACNET® Gateway & LONWORKS® Gateway

Energence® Ultra-High-Efficiency
The Energence ultra-high-efficiency models are the most efficient, lightest and quietest rooftops in their class.* The units feature industry-leading efficiencies of up to 23.5 SEER, 22 IEER and 15 EER resulting in overall lower operating costs and service.

• DirectPlus Blower™ option has energy saving and sound reducing features in 7 ½- to 12 ½-ton models.

• MSAV® supply fan allows the units to perform at optimal levels throughout the year and helps save energy, lower monthly utility costs, provide comfort and improve indoor air quality.

• ENERGY STAR ® certified and available in 3- to 20-tons (gas/electric and electric/electric).

• Advanced Cooling System™ features balanced run times between compressors to increase reliability and longevity of the system.

• Sound levels as low as 73 dBA for a quieter environment.

*Efficiency based on AHRI directory, June 15, 2016
*Ultra-high-efficiency commercial packaged units, 3-phase, 17 SEER or IEER and above
*Compared to commercial variable-speed models


Prodigy® 2.0 Unit Controller
This flexible and intelligent control system features over 250 adjustable parameters for customized comfort and over 100 diagnostic codes for comprehensive monitoring and troubleshooting. The Prodigy control systems makes installation, maintenance and troubleshooting easier than ever with an intuitive interface and SmartWire™ system.

• Larger display that shows critical information to simplify operation and maintenance.

• SmartWire™ System simplifies field sensor and thermostat installation with color-coded and keyed terminals and wires standardized across all models.

• Built-in technology allows technicians to download service reports, copy settings from unit to unit, and perform quick and easy firmware updates through the USB port.

• Compatible with major building automation protocols(BACnet/Lon), allowing complete integration with existing building monitoring and operation systems.

• Prodigy Smartphone App provides a single source for "How to" videos, technical documents, alarm lookup tables, troubleshooting guides and FAQ.
###