Southwest HVAC News
WaterFurnace Announces Return of SEVENbration Savings Event.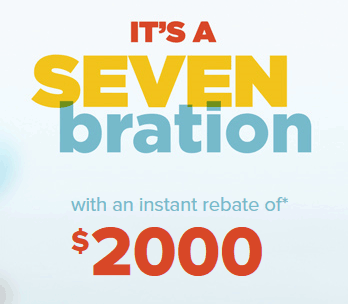 Homeowners can save $2,000 on the 7 Series geothermal heat pump and receive free Symphony home comfort platform.

Geothermal and water-source heat pump manufacturer WaterFurnace International launches the return of SEVENbration, a celebration of the 7 Series variable-capacity geothermal heat pump. From July 10 through Dec. 15, homeowners can receive an instant rebate of $2,000 through participating WaterFurnace dealers.

New to the SEVENbration this year is the addition of a free Symphony home comfort platform for each SEVENbration package purchased.
Story continues below ↓
---
advertisement | your ad here
---
The 7 Series is the first variable-capacity geothermal unit available for homeowners and surpasses 41 EER in cooling and 5.3 COP in heating. The unit utilizes a soft-start variable-capacity compressor, in concert with a variable-speed ECM blower and variable-speed loop pump. This allows the unit to scale output to exactly the level needed rather than the "high" or "low" speeds found in normal systems.

"SEVENbration is a great time to make the switch to geothermal," said Tim Litton, WaterFurnace director of marketing communications. "Combined with available

local incentives and year-round savings on utility bills, the SEVENbration package offers homeowners an attractive reason to upgrade to one of the most energy-efficient units on the market."

The 7 Series can ramp down to 20 percent of normal operation for ultra-efficient conditioning or up to 130 percent, for periods when extra cooling is needed. Symphony, a web-enabled home comfort platform, provides detailed feedback in real-time and the tools to control it from any web-enabled smartphone, tablet or computer.
For more information visit https://www.waterfurnace.com/sevenbration/