Southwest HVAC News
Advantage Alliance™ Teams with Daikin on Service Program.
Delivering Innovative, Worry Free Service for Customers.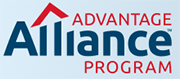 Advantage Alliance™ announces a relationship with Daikin North America LLC (Daikin) to lead the way in meeting growing consumer demand for worry free, all-inclusive home services memberships through Daikin's network of professional HVAC contractors. "The Daikin Complete Comfort Program" powered by Advantage Alliance, gives homeowners what they really want - clean, comfortable air in their homes, without the burden of ownership, at an affordable price.

The Advantage Alliance Program is transforming and simplifying the way homeowners purchase and maintain heating, cooling, and plumbing systems. It allows contractors the opportunity to offer their customers a truly worry-free membership plan that includes new, high-efficiency HVAC and plumbing equipment, planned maintenance and repairs with no money down and one affordable monthly payment for the life of the system. Customers can now enjoy all the benefits of healthy, comfortable air without of the burden of ownership. The Advantage Alliance Program is taking peace of mind to a whole new level.

"As the largest manufacturer of HVAC products in the world, Daikin is well-known for their high-quality and reputable products," said Will Green, Vice President of Alliance Partnerships. "Consumer focus and behavior continues to shift toward a service and membership-based model. The new Daikin Program offers a new and innovative level of service and value to customers."
Story continues below ↓
---
advertisement | your ad here
---
The Advantage Alliance Program provides contractors a competitive advantage over their competition and allows their customers to receive next level service from a company they know and trust.

"Our top priority is making sure customers have access to a reliable heating and cooling system and this program makes it even easier for our dealers to make that happen," said Doug Widenmann, Senior Vice President and President at Daikin. "Homeowners won't have to worry about additional expenses if their HVAC system needs maintenance or repairs, and they can trust that their home comfort is in good hands."

Visit www.advantageallianceprogram.com to learn more about the Advantage Alliance Program or call 833-521-0392.

About Advantage Alliance Pro
Advantage Alliance Pro is owned and operated by Enercare, North America's largest home & commercial services company, serving over 1.5 million residential Advantage customers. The family of companies are the leading provider of HVAC and water heater leasing across the United States and Canada. Visit www.advantageallianceprogram.com for more information.

About Daikin
Daikin Industries, Ltd. (DIL) is a Fortune 1,000 company with more than 76,000 employees worldwide and is the world's number 1 air conditioning company. Daikin North America LLC (DNA) is a subsidiary of DIL. DNA and its affiliates manufacture heating and cooling systems for residential, commercial and industrial use and are sold via independent HVAC contractors. DNA engineering and manufacturing is located at Daikin Texas Technology Park near Houston, TX. For additional information, visit www.northamerica-daikin.com.