Southwest HVAC News
Modine Acquires Napps Technology, Expanding Product Offering in Strategic Indoor Air Quality Markets. Acquisition provides modular heat pump chillers and condensing units that complement Modine's existing indoor air quality line focused on the North American K-12 school market.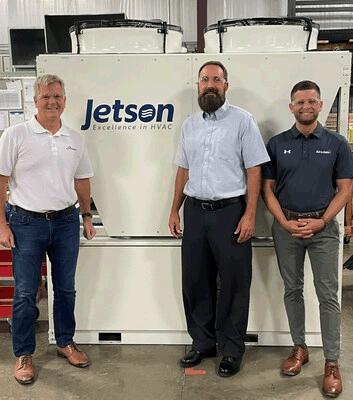 Modine (NYSE: MOD), a diversified global leader in innovative thermal management and ventilation solutions, announced today that it acquired Napps Technology, a manufacturer of air- and water-cooled chillers, condensing units and heat pumps for the K-12 school market and other similar applications. This acquisition is in line with Modine's growth strategy to provide differentiated technologies and systems that help customers address real-world concerns, such as improving indoor air quality in schools.

"Since announcing our transformation initiatives last year, we have said that acquisitions would be a key part of our growth strategy," said Neil Brinker, President and Chief Executive Officer of Modine. "Acquiring Napps Technology is in line with our transformation to focus on innovative, engineered solutions that expand our technology portfolio, and furthers our purpose of engineering a cleaner, healthier world. We are excited to demonstrate that Modine is doing what we committed: investing in markets with strong tailwinds that advance our product and technology strategies and help us achieve our long-term margin targets."
Story continues below ↓
---
advertisement | your ad here
---
Modine currently serves the approximately $2 billion North American chiller market with large chillers targeting the data center market. The acquisition of Napps Technology allows Modine to enhance its offerings to the K-12 school market, while also enabling Modine to serve a broader range of customers and end markets seeking small tonnage chillers and chillers with heat pumps. Modine expects to generate between $6 million to $8 million in revenue this year from the acquisition and forecasts doubling that within two years.

"Technologies that improve indoor air quality are more important than ever, especially in schools," said Jake Feldman, Vice President and General Manager of Modine's Indoor Air Quality business. "Napps Technology's modular, heat pump chillers perfectly complement our existing portfolio of indoor air quality technologies and equip us to meet a broader range of customer needs in the K-12 school market and beyond," said Feldman.

Modine also announced that it will continue to manufacture in Longview, Texas, and that Sam Neale, current president of Napps Technology, will join Modine. Jake Feldman continued, "Sam has done an outstanding job building the Jetson brand and diversifying Napps Technology's product and customer base over the last five years. We're thrilled to have him join Modine."

"Modine is a leader in providing quality, innovative heating and cooling solutions. We're proud to become part of Modine and look forward to continuing to provide trusted systems that improve indoor air quality." said Sam Neale.

About Modine
At Modine, we are Engineering a Cleaner, Healthier World™. Building on more than 100 years of excellence in thermal management, we provide trusted systems and solutions that improve air quality and conserve natural resources. More than 11,000 employees are at work in every corner of the globe, delivering the solutions our customers need, where they need them. Our Climate Solutions and Performance Technologies segments support our purpose by improving air quality, reducing energy and water consumption, lowering harmful emissions and enabling cleaner running vehicles and environmentally-friendly refrigerants. Modine is a global company headquartered in Racine, Wisconsin (U.S.), with operations in North America, South America, Europe and Asia. For more information about Modine, visit www.modine.com.