Southwest HVAC News
Custom Air Products & Services, Inc. Grows by Leaps and Bounds.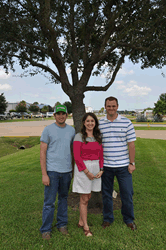 Custom Air Products & Services, Inc. (CAPS), a leading commercial and industrial heating, ventilation and air conditioning (HVAC) company based in Houston, Texas (US) is proud to announce several new, young additions to its team over the course of the summer.

Raymond Joslin has been brought on board as an estimator and inside salesman for the service division of the company. Joslin has over thirty years of experience in the HVAC industry in the sales and estimating field.

Mike Bachus is a new project manager. Bachus has extensive knowledge of the mechanical and rental equipment as well as service experience in the HVAC industry. He has worked with companies such as Carrier, Gowan, and Johnson Controls.

Shannon Falzon is CAPS' new marketing coordinator. She recently graduated from Texas A&M University in May with a Bachelors of Business Administration in Marketing. She will handle print material creation, website management, events and trade show coordination, and support the sales team.

CAPS' last new full-time employee, Reagan Norris, has joined the company as a new project manager. Norris worked for CAPS for the past three summers as an intern. He joined the team full time after graduating in May from Texas A&M University with a Bachelor of Science in Agribusiness.

Story continues below ↓
---
advertisement | your ad here
---
Along with new full-time employees, CAPS has had the opportunity to welcome three interns this summer. Taylor Norris, CEO, explains "we are recruiting at the high school and college level for many types of career paths within our organization. This is our third year to offer this program and we are happy to say it is a success." Ryan Wendel, graduating from Sam Houston State University in 2015, has been acting as a shipping receiving handler. Brandon Stockman has been an intern assistant in the engineering department and will graduate from Texas A&M University in 2015. Matthew Mauger, also graduating from Texas A&M University in 2015, has been an intern assistant estimator and project manager.

With the large amount of growth within the company and HVAC industry, Custom Air Products has found that "the future growth of CAPS' is dependent upon the youth that we are working with today." Taylor Norris says that "it is our intention to recruit these young and energetic individuals and teach them how our philosophy and culture can help them succeed, not only in their career but in life."

About Custom Air Products & Services

Custom Air Products & Services, Inc. is a full-service HVAC company that specializes in the design, construction, installation, modification, and servicing of industrial and commercial air conditioning equipment. CAPS employees are committed to providing exceptional custom design and quality workmanship at competitive prices.

Custom Air Products & Services currently occupies five (5) modern facilities, totaling 200,000 square feet in size. These buildings include administrative and engineering offices, training facilities, a filter warehouse, and service shops for fabrication, manufacturing, and modifications. CAPS services are provided to customers throughout the United States and Mexico while their manufactured products have been delivered to sites around the world. Currently CAPS has equipment operating on six (6) continents and in 52 countries.

For more information, contact Custom Air Products at 713.460.9009 or visit them on the web at https://www.customairproducts.com.