Southwest HVAC News
Engenuity Systems donated personal time, hard work, and building automation products to a brand new Ronald McDonald House in Mesa AZ.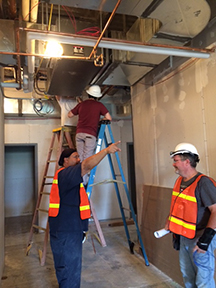 During the weekend of August 2nd and August 16th employees from Engenuity Systems and Small Box Energy, their sister company, assisted in running the structured wiring throughout the walls and ceilings of this new home away from home.

Dataline Resources, the company who designed the automated network system for this healing house, invited Engenuity Systems to help with this cause. The system Engenuity helped install includes security monitoring, access control, and a fully integrated HVAC controls, ensuring the inhabitants peace of mind, safety and comfort during their stay.

Engenuity participated in the charity by volunteering time, workers and equipment to help Dataline complete their network. Engenuity appreciated the opportunity to give back to the community by helping the Ronald McDonald house charity and the occupants the house will serve.

Story continues below ↓
---
advertisement | your ad here
---
About Engenuity Systems

The company operates from its single location, a 16,000+ square foot facility in Chandler, Arizona, with a team of experienced subject matter experts in control network technology and energy management. The company has established more than 10,000 customer relationships over its 20 year history winning numerous awards for industry leadership and innovation. Company culture is built upon the principles of strong core values, continuous improvement and a passion for "making control solutions happen." Engenuity continues to be an industry steward through leadership positions in trade associations including LONMARK® International and the SunSpec Alliance to name a few, as well as being appointed by the Department of Energy to its 13 member advisory panel, the GridWise Architecture Council.

Engenuity Systems Inc. is the world's largest supplier and value added reseller of networked control products. As a value-added distributor since 1994, Engenuity Systems has offered, supported and provided solutions for more than 20,000 products from 100+ world class vendors. Their UL-508A certified panel shop has the ability to pre-configure, program, test, and deliver complete panels and systems ready to install. Engenuity embraces all industry leading protocols, including LonWorks, BacNet, Modbus, and Internet Protocols; with a staff that includes LonMark Certified Professionals (LCP's) with over 20+ years of experience in the industry.

Information about the company and their products can be found at www.engenuity.com or by calling (800)348-3363 or (480)782-5600. For more information on Engenuity Systems offerings, visit www.engenuity.com or e-mail marketing@engenuity.com.