Southwest HVAC News
NEXREV INC. CELEBRATES 20-YEAR ANNIVERSARY.
Plano-based controls manufacturer and systems integrator achieves
20-year milestone.

NexRev Inc., the foremost manufacturer of performance-enhancing energy efficiency upgrades for standard HVAC equipment and open-based energy management systems (EMS), announced today the celebration of 20 years in business.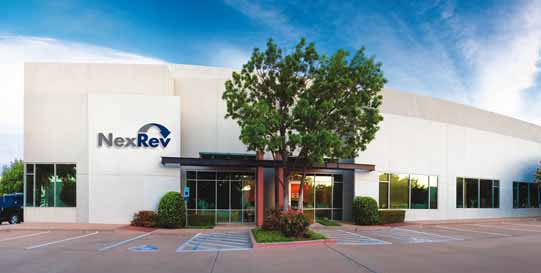 Since its founding in 1994 as KS Electric, NexRev has progressed from an EMS and electrical installation company to the leading manufacturer of Variable Frequency Drive (VFD) retrofit technologies and energy management and lighting control systems specifically engineered for retail, financial, entertainment, restaurants, data centers, and military and government facilities.

"This is an exciting milestone for NexRev. Our longevity can be attributed to our employees and their passion towards innovation and customer service," Kenneth Smith, NexRev CEO, said. "Our employees share an enthusiasm for continuous improvement, and our customers recognize our determination to consistently deliver on our promises with products that reduce energy consumption and save valuable resources."

Throughout its history, NexRev has continually evolved its offerings to anticipate and address customer needs. Incorporated as NexRev in 1999, the company began serving national technology companies. Recognizing the market potential of national retail and entertainment venues, in 2003 NexRev tightened its focus on large, repeatable rollouts that enabled customers to efficiently and quickly deploy control solutions.

Story continues below ↓
---
advertisement | your ad here
---
In 2004, NexRev established an HVAC test and balance division to complement its energy management business and provide a consistent level of performance optimization solutions from facility to facility along with reduced "finger pointing".

Energy product development and manufacturing was added in 2007, opening the door for the company's flagship VFD retrofit for packaged rooftop A/C units, DrivePak™, and the Freedom™ Energy Management system for the national multisite market.

NexRev has an established reputation for rapid response and consistency in their service capabilities for facilities anywhere in the nation by directly employing and training technicians in-house. While many national contractors rely on a network of sub-contractors, NexRev's dedicated team of integrators provides a level of agility and consistency exclusively accomplished by its highly-trained, internal personnel.

# # #
About NexRev Inc.
NexRev Inc. is a Plano, Texas-based privately-held company that manufactures and services products and programs that reduce energy usage and optimize efficiency for multisite national and regional facilities. For 20 years, NexRev has partnered with major retailers, entertainment venues, data centers, banks, telecommunication hubs, power plants, restaurants, government and military installations. The company's flagship HVAC retrofit product, DrivePak™, has enabled these customers to reduce their total electrical usage up to 20 percent, and the Freedom™ energy management solution meets the unique needs inherent with integrating and managing hundreds or even thousands of locations.