Southwest HVAC News
Precision Air & Heating is Changing the Game with Its Unique Approach Towards Business.
Precision Air & Heating does things a little differently than other companies in that environmental consciousness and preservation efforts is a part of their mission when it comes to the work that they do.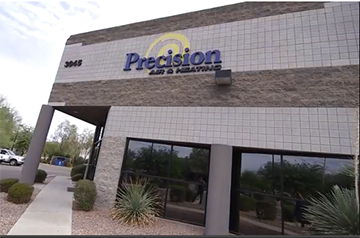 To Precision Air & Heating, sustainability is a priority and old heating and cooling units aren't thrown out, as they are with other companies. Instead, these units are recycled and torn down in a way that environmental harm is prevented as much as possible and the scrap metal sourced from the units are made into something useful. The company has also been pouring their efforts into speeding up the phase out of R22. R22 is an environmentally dangerous chemical that the EPA believes to be destroying the ozone. Evidently, Precision Air & Heating isn't just your run-of-the-mill, garden variety HVAC company. The company is on a mission.

According to Bryan, he believes that the strength of their company is attributable to the people behind it — the employees. With every hire, he ensures that he knows everyone by name and that each is employee is presentable, articulate and pro-active. Bryan believes that this is absolutely crucial to gaining the trust of clients, especially those who have had traumatic experiences with contractors before. He also trains his employees to be very patient and accommodating towards clients so that they genuinely feel the sincerity of the company in assisting them with their needs.

Story continues below ↓
---
advertisement | your ad here
---
With more than 50 employees, over 14,000 customers, and $12.5 million in revenue, it's plain to see that Precision Air & Heating is doing something right. An HVAC company owned and managed by Erik Bryan, some family members, and reliable staff, Precision Air & Heating is located in Chandler, Arizona and it has been in business since 1995.

However, it was only in 2002 that Bryan took over. This was when Precision Air & Heating's clients began to multiply in number and sales started to climb rapidly. Prior to joining Precision Air & Heating, Bryan was a former U.S. Marine going through challenging financial times when the business was entrusted to him as he had shown promise and potential. He feels that much of the company's success can be credited to his father teaching him to get things done right the first time around.

Residential and commercial heating as well as cooling and plumbing are some of the home performance services offered by the company. Precision Air & Heating's philosophy is "People before Profits". According to Bryan, "If we treat people right the first time, our business will grow." Based on the company's progress thus far and the fact that much of its success can be credited to customer referrals, it's evident that the man knows what he's talking about.

Apart from providing high quality professional home performance services to their clientele, Precision Air & Heating also offers financial support to a number of groups and charities such as the Phoenix Children's Hospital as well as local youth sports initiatives.

Visit www.precisionairandheating.com for more information or call 602.Fix.MyAC (602.349.6922). You can also shoot Precision Air & Heating an email at info@602fixmyac.com. The company also offers 24 hour emergency services.